Premium. Redefining luxury!
A collection in which industrial aesthetics meets futuristic design and
takes us to what is called the modern dimension.
Far from the classic norms found in ordinary cabins, Premium collection
are characterized by their ability to adapt to any custom requirements,
beyond any compromise.
The use of hidden lighting, in combination with the intense, imposing
lines but also the use of special materials, are what form our absolute and
extremely attractive Premium collection!
INOX BRONZE
CEILING
Type: 013 Material: Stainless Steel Bronze Mirror
WALLS
Stainless Steel Bronze Linen Stainless Steel Bronze Mirror
FLOOR
Starlight Black
HANDRAIL
Standard Handrail Material: Stainless Steel Bronze Mirror
COP
Standard full height, Stainless Steel Bronze Mirror
SKIRTINGS
Stainless Steel Bronze Mirror
MIRROR
Half height – Full width Bronze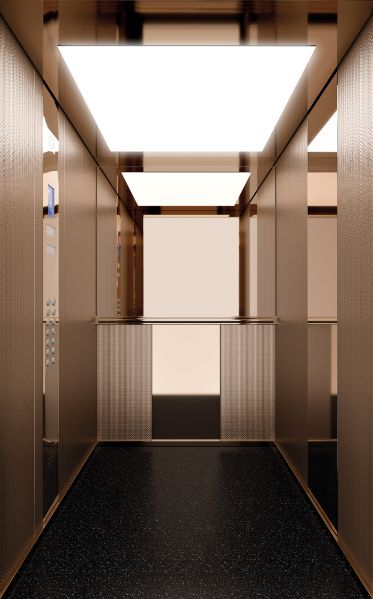 STANDARD RAL COLOURS
PREMIUM RAL COLOURS
LAMINATE WALLS
STAINLESS STEEL
STANDARD RAL COLOURS
PREMIUM RAL COLOURS
LAMINATE WALLS
STAINLESS STEEL
PLASTIC FLOORS
GRANITED FLOORS
LAMINATE FLOORS
PLASTIC FLOORS
GRANITED FLOORS
LAMINATE FLOORS