Positioned overlooking the Pacific Ocean, in Wollongong (Sydney), and venuecapacity 22.000, this stadium is designed as a multi-purpose facility with theability to host a variety of sporting and special events. 2 MRL elevators wereinstalled in order to provide the best service to the fans.
2 ELEVATORS
2 STOPS
1000 KG
MRL LOW PIT & LOW HEADROOM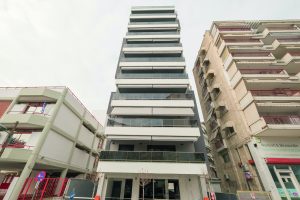 RESIDENTIAL BUILDING THESSALONIKI, GREECE In a residential building in Thessaloniki, Greece, a 11-stop Inox Satine/MirrorMRL elevator was installed with a capacity of 900kg at 1,6m/s.